Article in the Boutique Hotelier – Hotel at revamped Bromley Old Town Hall to finally open this summer
Hotel at revamped Bromley Old Town Hall to finally open this summer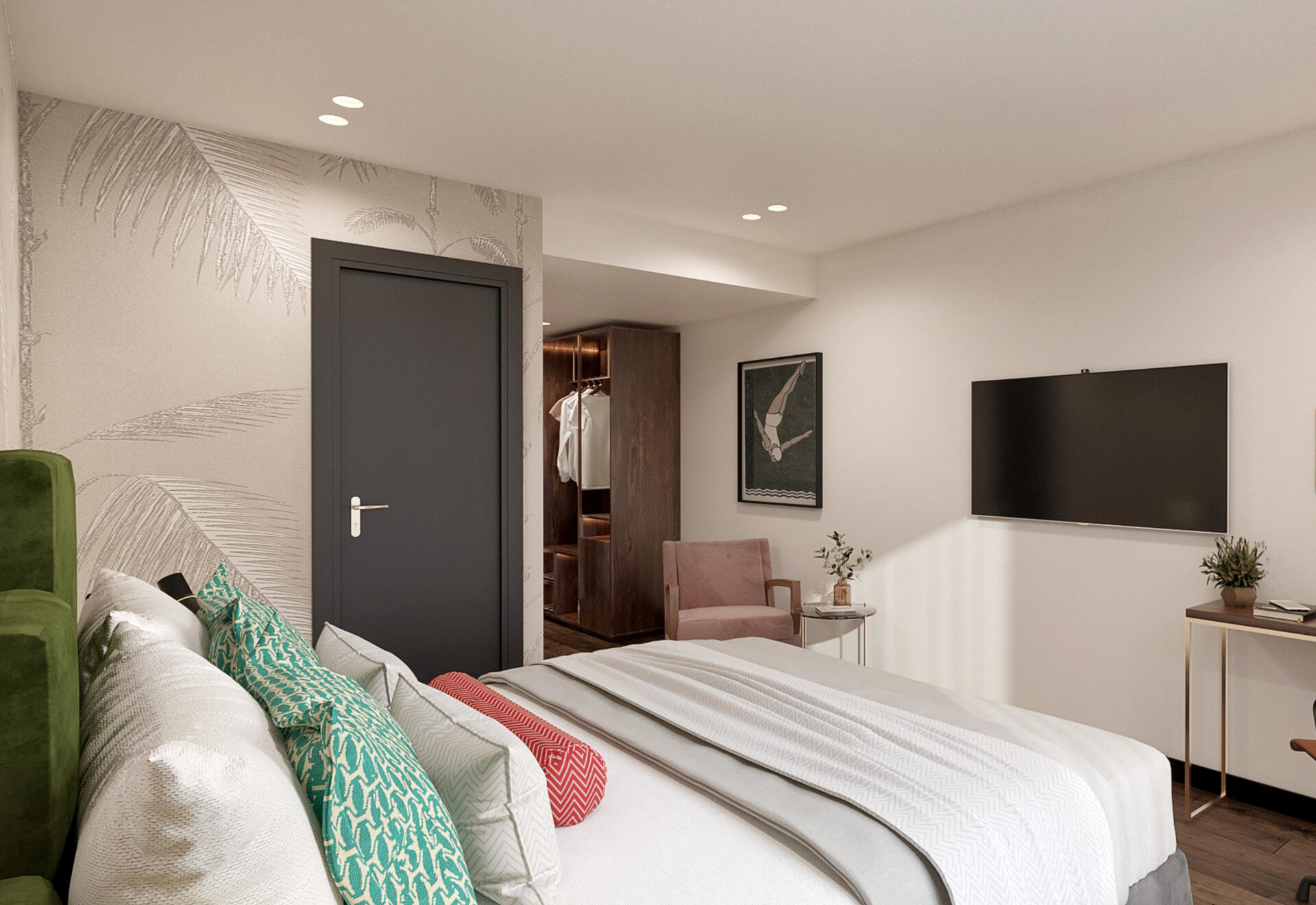 Bromley's first boutique hotel – Brama – will open its doors to the public this summer, the final part of the long awaited Bromley Old Town Hall regeneration project.
Brama comprises 23 guest bedrooms, which start from £109 per night on a room only basis. The hotel has released renders of its interiors, which employ neutral tones alongside fun colour pops of green.
The new lifestyle hotel is part of the major renovation of Bromley Old Town Hall following its addition to the Heritage at Risk register in 2009.
Brama joins a flexible workspace by Clockwise and the all-day restaurant Dorothy and Marshall at the new multi-use destination.
The redevelopment project began in the autumn of 2021 and was initially scheduled to complete in May of last year.
The planning process for the conversion of the Grade-II listed building first began in 2015 and permission was granted in 2021 for the site, which had been empty since 2007, to be repurposed in a £20 million renovation project.
The new hotel is housed within a two-storey roof extension clad in metal shingle, with the offices located in the town hall's existing loft.
The mixed-use scheme has been designed by Fusion interiors Group who have spearheaded the style of the offices, members lounge, bar, restaurant and the hotel in the heritage building, combining 1930's and 1890's architecture.
The Old Town Hall officially opened to the public in 1907 and has since played host to the wedding of David Bowie, the local seat of government, and even provided shelter in the event of a nuclear fallout during World War II.
Its foundations were laid in 1906 and it was extended multiple times before becoming vacant. Brama says the re-opening of Bromley Old Town Hall signals 'a reinvigoration of the building's spirit and a renewal of its purpose.'
Published on https://www.boutiquehotelier.com/brama-bromley-old-town-hall-opening/